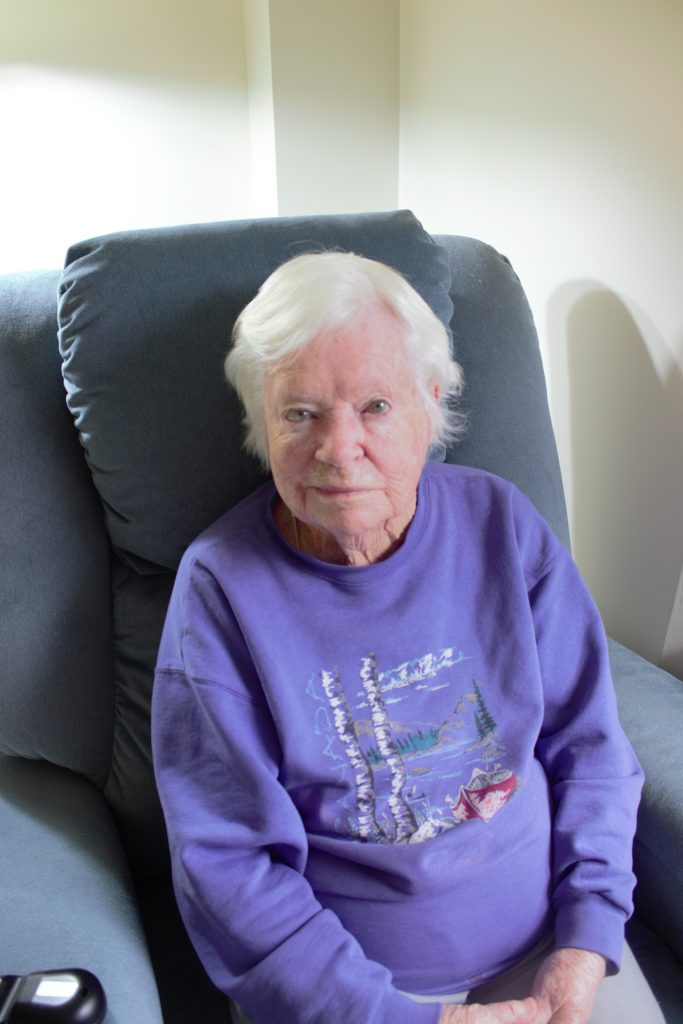 Marion Johnston grew up in Windsor, Ontario.  At the age of 19 she left home and went to London Ontario to live with her grandmother, while she attended the University of Western Ontario. Marion majored in a three year General Arts course, she was considering taking a Business course similar to her uncle and father but had decided against it after receiving a grant for the General Arts program.
At University, she worked in a psychiatric facility part time and in her second year, she joined a summer theatre program with some of her friends because none of them were interested in getting a summer job.  One of their best performances Marion remarked, was Alice in Wonderland. The following summer she worked as a waitress in the Thousand Islands.  There, one of the bus boys wrote an operetta which they performed. Marion really enjoyed theatre and she tells us everyone had their own thing and that was really good, that being said, theatre was hers and she felt belonged. During those two summers she met a lot of interesting people such as John Turner who eventually became the Prime Minister of Canada.
Some of the hobbies and passions that she had included swimming and her love for animals.  She was a very active person who says she practically lived outside. She loved to ride her bicycle and walk her dogs around the neighborhood. Marion also loved to read, she said she read lots of stories but as she got older she read everything even fiction which was not a shocker. So much has changed and she said, she learned more after leaving University. After getting married in London at 26 years old she wanted to raise her kids learning lots about traveling as she loved to travel. All of her kids travelled with her often.
She tells of her daughter who lives in New Jersey. Her eldest son who lives in China where he is completing a three year contract, and her youngest son who died in September 2017, of a massive stroke.  She has grandchildren and one great granddaughter and they are healthy and doing well.
Marion says, her favorite memories were of summers spent with her grandparents in the country house which is the story that she began to tell.
"In his early forties, my great grandfather married twice, his second wife was my great grandmother. He and his brother owned a hotel in Carlisle, which was 20 miles northwest of London. It was a big beautiful brick red house that kept chickens, cows, and stables for horses all across the fields. There was a lake that brought fresh water to the creek where I would dip my toes and play with the little turtles then watch them waddle down the creek while my grandmother did her cleaning. There was also the prettiest garden that I had ever seen on the farm. My grandfather had planted many beautiful flowers and I would take water from the creek to help water them. From the time I was very small, I spent my summers with my grandmother. I just loved how I could wander the fields and spend time with nature, I enjoyed walking down the gravel roads in my bare feet to gather milk and honey. Nothing could compare."
Marion continued to say that her grandmother was her role model, a big influence in her life. She would take her to church every Sunday and introduce her to the other women in the neighborhood. Her grandpa, she says was very quiet.  She liked to sit in his lap as he was such a peaceful person. Marion also had a sister by the name of Esther but tells us that it was funny how she was always around but she was just too busy wandering around and playing that she barely noticed her. Esther was much quieter than Marion, they lived separate lives. When her sister was in the Navy Marion then realized how important she was and missed her so much during that time. They became the best of friends when she returned from duty. Sad to say her sister passed away of a heart attack at fifty five. Marion expressed her feeling of gratitude for being 90 years old and still able to walk without using a walker.
Towards the end of the interview Mrs. Johnston began to reminisce on the many different places that she and her family had traveled to. Places such as Peru and Newfoundland which happens to be the last place that she visited. She mentions that the memories that were shared with the people she met along the way were always right there and worth remembering.  By reading these words I interpreted it in such a way that she would like to be remembered as a person who takes pleasure in wandering the beautiful places of the world. She left behind pieces of herself in different corners of the world and would love to be remembered by the experiences that she created with the people she encountered.
When asked if she had any images or tokens that we could take a picture of to remember her story by, she said that she didn't have anything and that we could take a picture of her herself. This to me and I hope to you the reader, is a true testimony of how invaluable the memories that she created were that she left everything in the hearts of the people that she met along her life's journey.